Following on from our popular '10 Free Adobe Photoshop Tutorials' a few weeks ago, we wanted to follow on from this and share a further resource that you can use and develop your skill's.
To be an world class artist and designer, you need to know all the tricks of the trade, learning about the various software platforms out there, mastering them, and creating your own individual voice.
As you've now worked your way through our previous blog post, we're sharing '10 Free Adobe Illustrator Tutorials For Artists & Designers (Beginner To Expert)'.
This blog post is for all of you beginners and experts out there, that firstly want to learn about Adobe Illustrator, and those of you that are already familiar with the software, but want some more tips and tricks to help you along the way.
Adobe Illustrator can be quite a hard piece of software to pick up at first, but we're sure that these Adobe Illustrator tutorials can help you become a complete pro, and help you create amazing designs that can be submitted to us.
All of the sources have been linked back to their original source, so if you like the look of one of them, be sure to check out the tutorial at hand, and create an amazing piece of art!
We hope you enjoy these 10 Free Adobe Illustrator Tutorials, be sure to comment below, we'll love to hear from you.
Beginner Adobe Illustrator Tutorials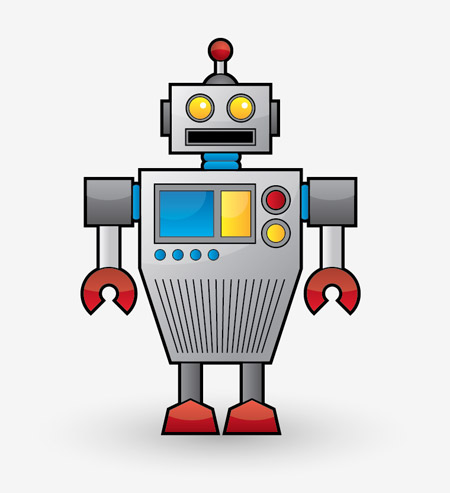 Chris Spooner is a fantastic resource which I have referenced twice in this blog post, just because of his easy to follow tutorials. A Adobe Illustrator tutorial which is aimed at beginners to Adobe Illustrator, you can easily put together his simple but effective illustration!
Tutorial by: Chris Spooner
Create a Cool Vector Robot Character in Illustrato
You may be looking at this Adobe Illustrator tutorial and think it may be too advanced for your liking, but this tutorial is so well designed and easy to follow, you'll be surprised by the results! Ending up with a crisp and clean propeller pinwheel illustration by Andrei Marius, this Adobe Illustrator tutorial teaches you about using gradients, shapes and colour.
Tutorial by: Andrei Marius
Create a Propeller Pinwheel Illustration in Adobe Illustrator
I featured Terry White in the last Adobe Photoshop Tutorials blog post, because of his great teaching skills, easy to follow videos, and how you can easily pick up the software with his help. Learning all of Adobe Illustrators tools, actions and elements, this tutorial is suitable for any beginner to Abobe Illustrator.
Tutorial by: Terry White
How To Get Started with Adobe Illustrator CS6 – 10 Things Beginners Want To Know How To Do
Advanced Adobe Illustrator Tutorials
I've always wanted to create a pattern design in Adobe Illustrator, and after going through this step by step tutorial, it allowed me to discover brand new techniques and tips that I can now incorporate into my way of working. Use this Adobe Illustrator tutorial if you want to create an epic pattern design that you can show off to all of your friends and family!
Tutorial by: Mary Winkler
Create a Seamless Pattern of Flat Desk Icons in Adobe Illustrator
This helpful Adobe Illustrator tutorial, which comes in four different tutorial videos, is extremely helpful to help you create a illustrator logo for your business, freelance career or artistic branding. Brought to you by Paul Trani, this tutorial will teach you everything from using gradients, shapes and creating a logo which you'll be proud to promote
Tutorial by: Paul Trani
How to design a logo with Illustrator
I've always had trouble embedding texture into Adobe Illustrator, so this is the perfect tutorial for me, and can be for you too! For all of you like me out there, this tutorial will help you create an illustration which is packed full of depth, texture and appeal. With this tutorial, you'll be able to really enhance your creative work.
Tutorial by: Creative Bloq
Add depth and texture in Illustrator
Referencing Chris Spooner again, this great Adobe Illustrator tutorial will teach you how to create a comic style text effect, and also teach you how to embed half tones, strokes and gradients. This tutorial is for all of you that want to take your typography to that next level.
Tutorial by: Chris Spooner
Add depth and texture in Illustrator
Expert Adobe Illustrator Tutorials
This expert Illustrator tutorial can help you create a cool and quirky isometric illustration, which results in a really interesting image to look at. Isometric perspectives don't appear smaller in distance, and remain the same size throughout. Learn how to construct an isometric Illustrator image with Tim Smith, who shares tips and tricks to help you pull of this tricky image.
Tutorial by: Tim Smith
Adobe Illustrator tutorial: Design an isometric infographic
Gradients and Adobe Illustrator can be quite hard elements to combine, but with this helpful and insightful tutorial by Digital Arts, this tutorial will give you the know how to create an image which is full of gradients and cool effects. They recommend 2 days to complete this Adobe Illustrator tutorial, so it shouldn't be taken likely!
Tutorial by: Digital Arts
Adobe Illustrator tutorial: Master dynamic gradient techniques
Adobe Illustrator gives you the power to create striking, eye catching and memorable designs, which can give your art that professional edge. This tutorial by Tuts Plus is for any designer or artist that wants to learn how to use the brush tool, and also layers too! Choose this tutorial to create your next illustration masterpiece!
Tutorial by: Tuts Plus
Create a Tattoo Style, Grunge, Day of Dead Girl Poster in Illustrator
Editor's Pick – Adobe Illustrator Type Tutorial
As a little highlight of this blog post, I've embedded this exclusive type tutorial that I've exclusively picked out myself, (as it's my favourite!). that you can master within Adobe Illustrator. Creating a golden shiny metallic text in Adobe Illustrator, you'll create a type which is not only elegant, but can also incorporate into your website, portfolio or greetings card, a great tutorial for all!
Tutorial by: Tuts Plus
Stay Golden With This Shiny Metallic Text Art Effect in Adobe Illustrator
We hope you enjoy these Adobe Illustrator tutorials!
Ranging from beginner, advanced to expert, these Adobe Illustrator tutorials will help you learn brand new techniques, tricks and tips that can help you in numerous ways.
How Did You Get On With These Tutorials?
Let us know how you get on with them, we'll love to hear from you!
So thanks for visiting today, be sure to leave a comment below, as we would love to hear from you. Be sure to follow us on Twitter, Facebook and Tumblr, it will be great to see you on there. Thanks again, and have a great day!