After our hugely popular iOS and iPhone UI/UX free PSDs resources post we've collected another awesome collection, which complements each other, and is here to help you with your design projects. Every mobile app or web app demands high levels of user-friendly design.
There are various ways to achieve this but one of the core principles of good user interface design is an intuitive user experience. To aid this, icons play a huge role in helping users distinguish actions with objects, to make it easier for them to use and navigate your application. For example, a bin icon can be used to represent a deleting action or a magnifying glass to represent a searching action.
Using icons not only saves screen real estate but also transforms the user interface into a platform the user can understand and quickly get familiar with. So with that in mind, you should be using icons within every app that demands it. It's likely your using icons in every app that your designing, so why not make that task easier by using pre-designed icons, created by awesome designers around the world? Thankfully you can and in this post we'll showcase some of the best icons around with links to download the PSDs for free, whilst links direct to the designers Twitter pages so you can show some love! So without further a-do, let's welcome our first highly useful, time saving icon pack, 80 shades of white.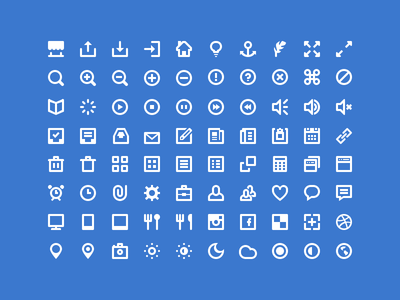 To kick start this awesome collection, this 80 strong icon pack is perfect for nearly every app that requires clean, professional and free designed icons! Ideal for user interfaces where white icons would completed a darker colour theme. This bumper pack of icons includes all the common actions a user might make during their experience. Even if you're not designing an app at the moment, be sure to add this to your bookmarks or design resources collection.
Designed by: victorerixon
Download the free 80 Shades of White Icon Pack PSD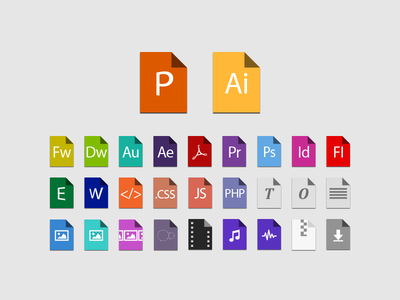 More common in web applications supporting various file formats, this free flat file type icon pack is essential for quickly and effectively displaying to the user the format of a particular file. This icon pack is so well designed you could use it both on customer facing and internal apps. This icon pack could be used within CMS's, for file uploads or repositories. Using images to represent the file's format is much more powerful then text alone. The reason this pack works so well is because each icon has it's own colour. Using colour helps the user establish a quicker connection to file, therefore aiding the user's experience. For example, red represents Adobe Reader (.PDF). User colour means it's easier and quicker to perform tasks like downloading documentation of your site. Knowing the format of a file before viewing or downloading is a smart move and will help avoid "cannot display' errors and avoid high bounce rates, which will hopefully increase conversations and leads in the long run. Thanks z_x (cool Twitter name!).
Designed by: z_x
Download the free Flat File Type Icons PSD
It's likely your app will integrate with other services at some point. It maybe not be true for current apps that you're working on right now but later down the road this might become a requirement. You might use Dropbox or Google Drive to save documents or maybe you're using Skype to connect users together. Either way this icon pack is ideal for showcasing other apps within your own.
Designed by: michaeldolejs
Download the free Free Colourful Icon Pack PSD
When designing apps we can't skip past designing apps for Windows or it's phone. There are fewer resources around (good ones at that) specifically targeted for Windows or Windows phones. However thanks to Oliviu, he's created 210 amazing, high quality icons all for free. There is a small web form to fill out before downloading but we think it's worth it. The icons don't just have to be used on Window's products, but it's worth checking the licence terms just to make sure your project is able to use this resource.
Designed by: Oliviu Stoian
Download the free 210 Windows and Windows Mobile Icon Pack PSD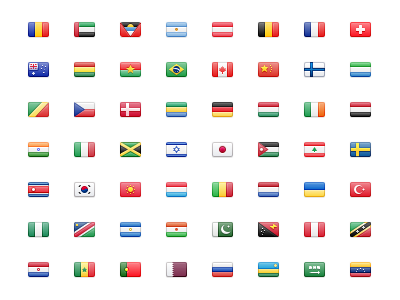 The guys over at Stripe have been hard at work designing some super cool and even more useful country flag icons. Not only have released the flag or free, it includes 100 icons, good work! So if you're design is a multinational application with varying languages or users from around the world, this icon pack will be perfect for you!
Designed by: Stripe
Download the free 100 Country Flag Icons PSD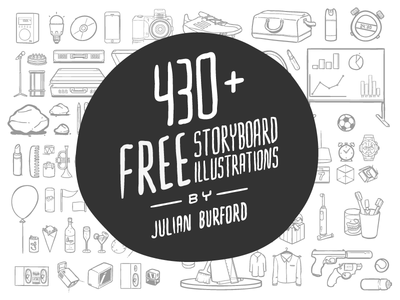 I know what you're thinking, over 400 free icons. Yep! Thanks to Julian he's created a super mega icon pack for you to download for free. Prefect if you're undertaking storyboarding for a client or to show you're boss how your application works. These icons come in vector format so image quality will always remain regardless of the final image size.
Designed by: Julian Burford
Download the free 430 Free Storyboard Illustrations Icons AI
No icon resource post would be complete without a set of social media icons. Thanks to Joshua, this post is no exception. These smart, clean and highly useable rounded social media icons are great for any website, application or offline media graphics where you want to give people an option to visit your social networks or to show that you're accessible via various channels. We use something similar here at Graphic Tide in our footer of our website and inside our email newsletter. If you want to see how we use our social media icons, be sure to sign up to the email newsletter for free.
Designed by: Joshua Sortino
Download the free Clean Rounded Social Media Icon Pack PSD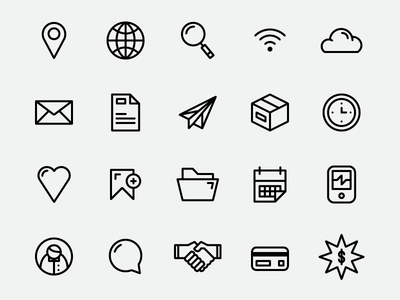 This super simple yet highly clean icon pack is perfect for tight knitted designs. This plain, single colour icon pack is ideal for any design where you don't want the icons to take centre stage nor distract the user's attention away from the task at hand. These icons do just that, designed in such a way to maintain a useful and user-friendly design without loosing partiality. These icons are free but the designer does ask you pay with a Tweet. It won't cost you anything, it just means the designer gets acknowledgement for their work, sounds good to me!
Designed by: byjad
Download the free Simple and Clean Icon Pack PSD
We hope you've enjoyed this resources post. If you did please spare a moment to spread the word on Twitter to help share with others what people have already shared with us. We really enjoy putting together these resources, we're always amazed what we find and can't wait to share it with the Graphic Tide community. If you would like us to feature a particular resource, maybe free web design templates or free fonts, let us know using the normal channels, Twitter, Facebook or the good old contact form.