Fan of The Walking Dead television show?
Want to see some mind blowing pieces of fan artwork?
At Graphic Tide's HQ, we're big fans of 'The Walking Dead'. It's a fantastic television show which has captured the attention and hearts of so many people, so we wanted to pay something back by showcasing some mind blowing Walking Dead artwork.
Following on from our highly successful Breaking Bad Art Tribute, this blog post showcases work from illustration, photography to epic typography. It's a collection of artwork that has it all to relive the classic characters and events which the television show went through – but don't worry, there's no spoilers here!
We've searched high and low for great designs and fantastic illustrations, so you don't have to!
We're showcasing the fantastic design work of Pedro B. Maia, Paul Ainsworth's graphical posters from the show, and the admiring character designs by Franco Spagnolo.
Pedro B. Maia
Perdo is the master at film poster design, and has created a Walking Dead poster which truly sends us screaming in terror.
Packed full of horrifying colours of reds and chilling blues, this film poster packs a powerful but subtle approach. The poster conveys the main character – Rick Grimes (Andrew Lincoln), to excellent effect!
We're absolutely sure you'll love Pedro's artwork, and if you want to see more of his work, be sure to check out his online portfolio.
Paul Ainsworth
If you ever want to see such a graphical film poster, which perfectly represents the television show of The Walking Dead, then look no further!
Paul Ainsworth has created a poster which showcases the character (The Governor – played by David Morrissey), which is represented in a graphical, vectorised and digital approach, which we absolutely love!
After looking through his online portfolio (which we equally love), Paul has a distinctive style which is perfect for poster design!
If you like Paul's work, be sure to hit him up on his online portfolio.
Franco Spagnolo
A great person to end on is Franco Spadnolo, who's a character designer and illustrator from Argentina.
Using his digital style, Franco has built up a portfolio which excellently represents many popular figures, from 'The Game of Thrones', 'Breaking Bad', to 'The Walking Dead'.
The hard thing about character design is putting the character, into the character, which Franco seems to master effortlessly. His designs are a true representation of the characters in the show, which shows off their personality brilliantly!
If you loved Franco's work, see his online portfolio here.
We hope you enjoy today's eye catching art tribute of 'The Walk Dead' television show!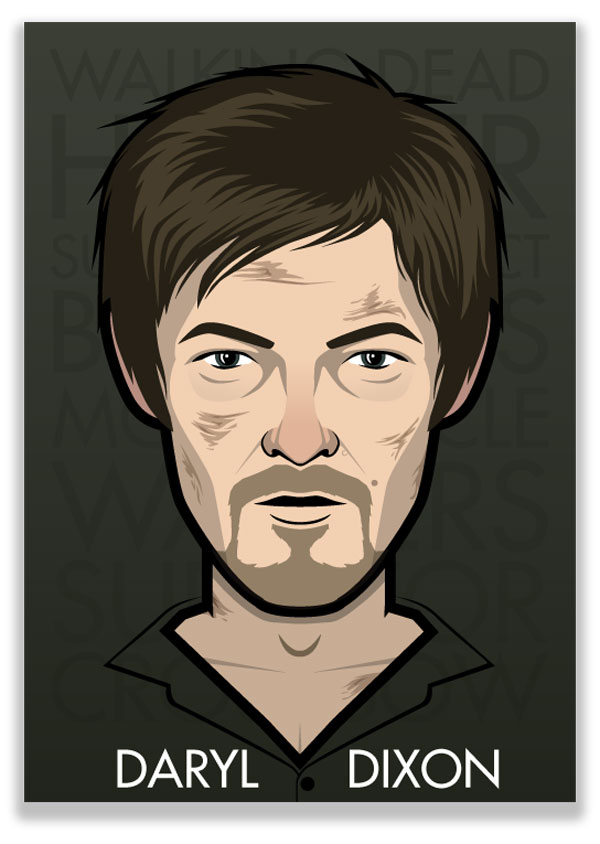 We Hope You Enjoyed The Artwork!
We hope you enjoyed today's 'Walking Dead' Art Tribute as much as we did – as we had an absolute blast gathering it all for you.
Be sure to check out the artists work and portfolio, which we're sure they'll really appreciate it if you do.
Tell us what you think of this art tribute by commenting below, we'll love to hear from you!
Now we all feel inspired to watch the show now, here goes an hour off our day!
So thanks for visiting today, be sure to leave a comment below, as we would love to hear from you. Be sure to follow us on Twitter, Facebook and Tumblr, it will be great to see you on there. Thanks again, and have a great day!